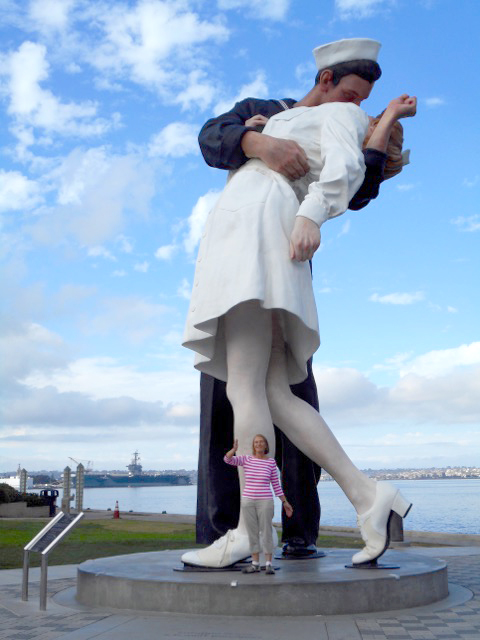 I have always had a great fondness for the famous photograph of a sailor's kiss in Times Square on Victory over Japan Day, August 14, 1945.
The story goes that as soon as the end of the war was announced, a sailor grabbed the nearest gal, a nurse, and swirled in a romantic embrace with a kiss. A Photographer shot it and it ended up on the cover of Life Magazine announcing the end of the war.
I have a large poster of it and a one-foot high plaster statue of the event. It brings great emotion to me evoking the feeling of the end of a long arduous war.
When I went to San Diego for a work conference, I hoped I could steal away and go and see the 25-foot statue of "The Kiss".
I took a trolley and headed out to the Midway. I walked along the beach boardwalk and spied it across the way next to a huge WW II aircraft carrier. It looked interesting but did not appear that large.
The closer I got the bigger the statue became as I was enthralled and drawn to it. I sat on a bench in front of "The Kiss". Many people speaking foreign languages walked toward the giant emotion-filled statue. I watched couple after couple trying to copy the moving embrace, posing with a leg just so, and a kiss. I sat there for quite a while enjoying the variety of people copying the fun and positive energy that "The Kiss" captured.